Web Portal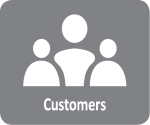 The web portal customers functions allows you to track and store asset data such as customers, their sites and equipment per site in GTO. Once this asset data is saved to the system office staff can create and allocate jobs to engineers in the field using the Jobs function.
Do you have a long list of customer, sites and equipment?
Contact the GTO support team who can have your data bulk uploaded to your web portal at a time that suits you*.
*Annual subscription charges may apply 
GTO App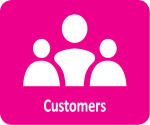 The GTO app engineer function allows engineers to track and store asset data whilst on the move. If your office has forgotten to add a particular customer or a piece of equipment then rather than calling them simply add it using the GTO app. Once added this information will sync automatically with your web portal where the office staff can view the information added.
All data added on the GTO App will automatically be synced back to the web portal ensuring real time data.
Customers Function Summary
Customers function in action