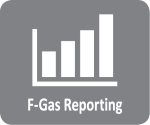 Use our F-Gas reporting software to access a range of reports including customer and engineer reports. Reports are generated after a job is listed as complete on the GTO app. To access these reports sign into your web portal by navigating to the GTO Logon Portal page and click the reporting tab.
Free GTO users have access to a standardised F-Gas Logbook where you can track F-Gas usage by customer and site. Enhanced Service users have access to a wide range of customer and engineer reports.
Do you require customised reporting for a specific customer*?
Have multiple engineers but want collaborative reporting*?
Contact the GTO support team here.
* Annual subscription charges may apply.
The free version of our F-Gas software allows contractors to generate F-Gas Logbooks that include information on the customer, job location and the type, quantity and direction of product used.
Use the start and end date filters to find the required report.
All F-Gas reports can be extracted directly to excel ready for printing.
Click the following link to see an F-Gas Logbook report.
F-Gas Logbook
Enhanced Service F-Gas Reporting
The full version of our F-Gas tracking software allows contractors to generate several different F-Gas Reports. These include Operator Reports which are vital for contractor's customers.
F-Gas Enhanced Logbook: the F-Gas Enhanced Logbook is a detailed version of the standard F-Gas Logbook with information on the equipment reference, engineer and any comments attached to the job.
F-Gas Usage: the F-Gas Usage report displays information on the customer, site, equipment reference and the cylinder number that was used on the job.
Leak Test Report: the leak test report shows whether your engineer found a leak whilst testing and when the next test date is due with or without fixed leak detection.
F-Gas Register: the F-Gas register report provides basic customer and equipment information as well as the GWP and CO2 equivalent of the product used.
They will also have access to several GTO Contractor Reports:
Engineer Refrigerant Usage: the Engineer Refrigerant Usage report allows contractors to compare engineer performance and track the quantity of product they add or recover on a daily basis.
Engineer Jobs: the Engineer Jobs reports provides contractors with information on what jobs their engineers have completed on any chosen date, the location of that job and the type of work that was carried out.
Engineer Refrigerant Cylinder List: the Engineer Refrigerant Cylinder List report gives contractors a quick view of what cylinders their engineers use on any chosen day, the customer location and the quantity of product used from that cylinder.
To see the exact details of what each report offers please logon to our Test Account and view the reports for yourself or contact the GTO support team here.
Click the following link to see Advanced F-Gas Reporting.
Advanced F-Gas Reporting