GTO Contractor: Job Management Tool
Accelerate productivity by using our intuitive job management tool.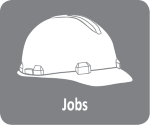 GTO's F-Gas job management software allows office-based employees to manage jobs for their field-based team through a cloud based web portal. Use the job scheduler tool to plan your jobs in advance ensuring you have the required number of engineers to complete your scheduled work. Simply select the customer, site and equipment reference and allocate the job to your engineer in the field. Jobs are then picked up by engineers on the GTO App where they complete the job adding any necessary gas usage. Alternatively, jobs can be created by the engineer on the GTO App by:
Barcode Scanning: if the equipment your servicing has been barcoded then use this as the equipment reference and simply scan the barcode to create a job.
Manually: by selecting the customer, site and equipment on the GTO App.
Working offline? Don't worry GTO works offline storing data locally until connectivity becomes available.
Job Management Summary
Job Management Schematic
GTO Contractor & GTO Distributor: Features & Benefits
GTO has a full range of features to meet the needs of HVACR contractors, to find our more about how GTO can help your business visit our GTO Contractor page. 
Alternatively, if you are a HVACR distributor we have a solution for you, please visit our GTO Distributor page to find out more. 
GTO Contractor

GTO Contractor provides HVACR contractors with an integrated stock management, job management and insightful reporting tool.

GTO Distributor

GTO distributor allows HVACR distributors to track returnable cylinder stock across their branch networks and on loan at customer sites.